*** REGISTRATION ONLY AVAILABLE TO PARTICIPANTS OF THE WOMEN DELIVER CONFERENCE 2019 ***
---
SAVE THE DATE!
Side-Event on the side-lines of the Women Deliver Conference 2019 hosted by the Compact for Young People in Humanitarian Action. 
Join us for an inter-generational and interactive panel discussion & an exciting simulation exercise to put the Compact Guidelines for Working with and for Young People into action. The simulation exercise will be led by 10 youth facilitators from Compact member organisations!
This side event will discuss the ways in which young people are adapting to and learning from these humanitarian efforts, in engaging with each other and serving populations in need. It will also shed light on how stakeholders in humanitarian contexts do take into account the specific needs of youth.  First, a high-level panel will launch the new interagency guidelines on young people in humanitarian action, which provide concrete guidance on how to effectively consider the unique needs and experiences of young people in humanitarian contexts and how to ensure that young people are part of the decision-making processes that affect their lives. Participants in this panel will discuss not only the importance of the guidelines, but some of the main challenges the guidelines seek to overcome. They will also discuss how taking account of gender equality and the empowerment of young and adolescent girls in particular is of vital importance to ensuring youth needs are met.
Second, following the high-level panel, an interactive and fun youth-moderated simulation will challenge participants to think about how to put the guidelines to use in a variety of sectors. Divided into sectors, the participants will be asked to consider how they would prioritize youth needs (and meaningful youth engagement) in responding to a particular crisis scenario. They will be asked to consider how girls and boys are being differently affected within these sectors and how to respond to those differences. Participants will use the guidelines to inform how they develop key sectoral priorities and strategies. The young leaders will report back to the wider group on the key learnings and discussion.
Opening Remarks:
Danielle Engel, Technical Specialist, Adolescent and Youth, UNFPA 
Lauren Rumble, Principal Advisor on Gender and Development, UNICEF 

Panel Moderator:
Ayah Al-Oballi, Senior Girl Center Officer, Jordan, Mercy Corps

Panelists: 
Anne-Birgitte Albrectsen, CEO, Plan International
Lauren Landis, Director of Nutrition, WFP
Kevin Frey, CEO, Right To Play
Most. Maksuma Akter, Midwife in Cox's Bazaar
Closing Remarks:
Jayathma Wickramanayake, United Nations Secretary-General's Envoy on Youth
Help us bring attention to the needs and priorities of young people in humanitarian settings through sharing lessons and good practices, and mobilizing action and commitment!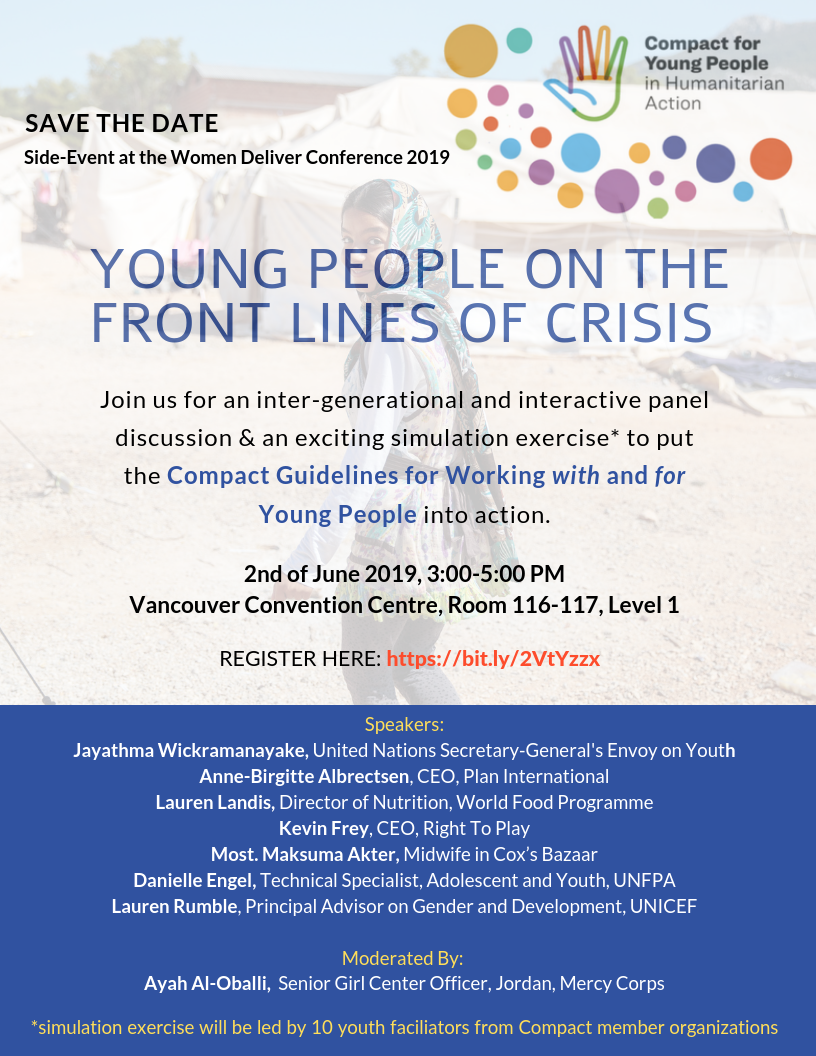 Get tickets for this event on: EventBrite.